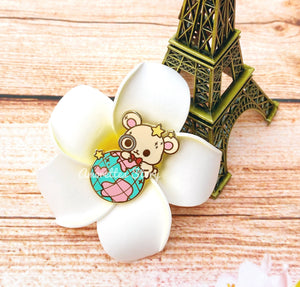 Amorettes Story
Researcher Bear Enamel Pin
Regular price
$6.00
$0.00
Unit price
per
Pin Details
♥ Hard Enamel Pins
♥ Gold Plated
♥ 1.5 inches tall (381mm)
♥ Double rubber clutch 
♥ Illustrated backing card
Welcome to one of my latest pin designs from my Anti-Fraud Project. This project was one that was important due to personal issues. However, this project is aimed at creating awareness and provide insights on the varieties of frauds and the different ways of prevention against each of the different frauds. 
Tip one to stay away from being scammed. Here's our little researcher friend to remind you to always do online researches on everything. Type a company or product name into your favorite search engine with words like "reviews", "complaint" or "scam". Or search for a phrase that describe your situation, like IRS call. You can even search for phone numbers to see if other people have reported them as scam. 
Please refer to the Pin Grading Guide for details and description of the different Pin Grades available before purchasing. 
---