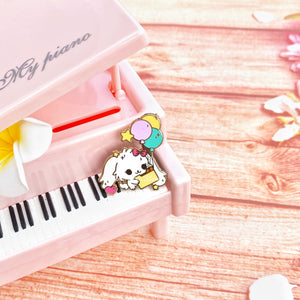 Amorettes Story
Bunny Balloons Enamel Pin
Regular price
$6.00
$0.00
Unit price
per
Pin Details
♥ Hard Enamel Pins
♥ Gold Plated
♥ 1.25 inches tall (317mm)
♥ Double rubber clutch 
♥ Illustrated backing card


Welcome to one of my latest pin designs from my Anti-Fraud Project. This project was one that was important due to personal issues. However, this project is aimed at creating awareness and provide insights on the varieties of frauds and the different ways of prevention against each of the different frauds. 

Today's design will be about confidentiality! Our private and confidential information should always be kept closed tightly. However, scammers will always find a way to gain access to victim's information A common way for them is through unlocked mailboxes and discarded personal documents. We must always be vigilant when discarding such documents and a small tip would be shredding them before recycling or removing all data from electronic devices before discarding. Do you trust this happy bunny with your details?  


Please refer to the Pin Grading Guide for details and description of the different Pin Grades available before purchasing. 
---