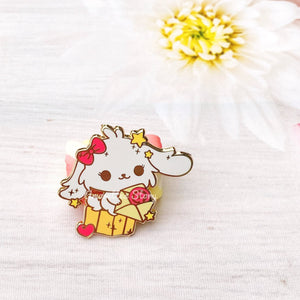 Amorettes Story
Bunny Phishing Mail Enamel Pin
Regular price
$6.00
$0.00
Unit price
per
Pin Details
♥ Hard Enamel Pins
♥ Gold Plated
♥ 1.5 inches tall (381mm)
♥ Double rubber clutch 
♥ Illustrated backing card


Welcome to one of my latest pin designs from my Anti-Fraud Project. This project was one that was important due to personal issues. However, this project is aimed at creating awareness and provide insights on the varieties of frauds and the different ways of prevention against each of the different frauds. 
This message is about Phishing mail which also what people received the most. Phishing is a type of online scam where criminals send an email that appears to be from legitimate company and ask you to provide sensitive information. Always be cautious about all communications you receive double confirm with the link sent! Do not enter personal details into any of the sites especially if you did not visit the sites recently. Don't fall into this bunny trap!  
Please refer to the Pin Grading Guide for details and description of the different Pin Grades available before purchasing. 
---