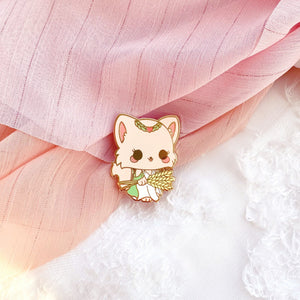 Amorettes Story
Neko Demeter Enamel Pin
Regular price
$8.00
$0.00
Unit price
per
Pin Details
♥ Hard Enamel Pins
♥ Gold Plated
♥ 1.5 inches tall (381mm)
♥ Double rubber clutch 
♥ Illustrated backing card


When it comes to Greece, it is the Greek mythologies that comes to mind for everyone around the world. The legends and stories of these great deities is known far and wide, from mother of the God Gaia to the stories of the Zeus. However, I gave mine an adorable feline take on these iconic Greek deities to make a cute set of the Neko Gods!
May we welcome the Goddess of Harvest and agriculture, Demeter! Demeter was a goddess who controls harvest and seasons throughout the year. In legends of old, it was said that when Demeter lost her daughter to Hades, ridden with sadness she neglected her duties and harvest never came.
Seeing this, Hades proposed a plan where Demeter's daughter, Persephone would spend half the year with Hades and the other half with her. When Demeter is with her daughter, happiness and harvest flourished which brought the seasons, spring and summer. When Persephone left, she neglected her duties again which brought autumn and winter.
Please refer to the Pin Grading Guide for details and description of the different Pin Grades available before purchasing. 
Please also refer to the Shipping And Handling page for more information related to order processing duration, shipping duration, return and refund policies etc. 
---