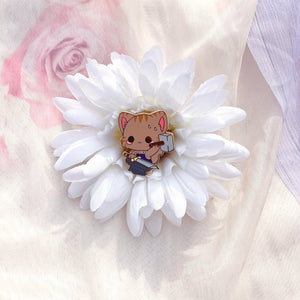 Amorettes Story
Neko Hephaetus Enamel Pin
Regular price
$8.00
$0.00
Unit price
per
Pin Details
♥ Hard Enamel Pins
♥ Gold Plated
♥ 1.5 inches tall (381mm)
♥ Double rubber clutch 
♥ Illustrated backing card


When it comes to Greece, it is the Greek mythologies that comes to mind for everyone around the world. The legends and stories of these great deities is known far and wide, from mother of the God Gaia to the stories of the Zeus. However, I gave mine an adorable feline take on these iconic Greek deities to make a cute set of the Neko Gods!
Hephaestus is the Ancient Greek God of fire, metalworking, stone masonry, forges and the art of sculpture. As a smithing god, Hephaestus made all the weapons of the gods in Olympus. He served as the blacksmith of the gods, and was worshipped in the manufacturing and industrial centres of Greece, particularly Athens. The cult of Hephaestus was based in Lemnos. Hephaestus's symbols are a smith's hammer, anvil, and a pair of tongs.
Please refer to the Pin Grading Guide for details and description of the different Pin Grades available before purchasing. 
Please also refer to the Shipping And Handling page for more information related to order processing duration, shipping duration, return and refund policies etc. 
---