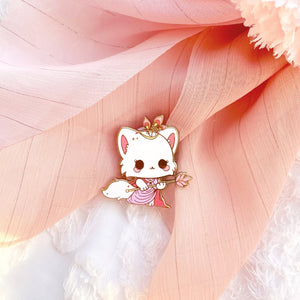 Amorettes Story
Neko Hera Enamel Pin
Regular price
$8.00
$0.00
Unit price
per
Pin Details
♥ Hard Enamel Pins
♥ Gold Plated
♥ 1.5 inches tall (381mm)
♥ Double rubber clutch 
♥ Illustrated backing card


When it comes to Greece, it is the Greek mythologies that comes to mind for everyone around the world. The legends and stories of these great deities is known far and wide, from mother of the God Gaia to the stories of the Zeus. However, I gave mine an adorable feline take on these iconic Greek deities to make a cute set of the Neko Gods!
What would a king be without his queen? The Queen of the Gods, Hera has arrived! Hera is known as the goddess of Marriage, Family and Childbirth where she presides over weddings and is a figure as a protector of women. She provides blessings to newly weds and their everlasting journeys! As the wife of Zeus, She holds prominence amongst the 12 main Olympian gods and had more authorities that many others.

Please refer to the Pin Grading Guide for details and description of the different Pin Grades available before purchasing. 
Please also refer to the Shipping And Handling page for more information related to order processing duration, shipping duration, return and refund policies etc. 
---