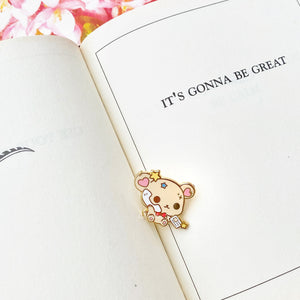 Amorettes Story
Talkative Bear Enamel Pin
Regular price
$6.00
$0.00
Unit price
per
Pin Details
♥ Hard Enamel Pins
♥ Gold Plated
♥ 1.5 inches tall (381mm)
♥ Double rubber clutch 
♥ Illustrated backing card


Welcome to one of my latest pin designs from my Anti-Fraud Project. This project was one that was important due to personal issues. However, this project is aimed at creating awareness and provide insights on the varieties of frauds and the different ways of prevention against each of the different frauds. 
Scammers comes in all shape and sizes but many comes in the form of a phone call. Many people have experience this kind of scams throughout the world. They call and find ways to get your confidentials. My little bear received such a call but with knowledge, he protected himself and didn't provide any important information and his here today to inform you to be safe too!
Please refer to the Pin Grading Guide for details and description of the different Pin Grades available before purchasing. 
---